Story Time at Inés María Mendoza School, San Juan, Puerto Rico 

As board book authors and caregivers ourselves, we know firsthand that reading to children helps them develop early literacy skills and a lifelong love of books. We welcome every opportunity to provide free author events, including story times and book signings at indie bookstores, public libraries, schools, children's museums, and more. 
---
Every spring, we love hosting story times with our globally-inspired board books at bookstores and public libraries throughout the greater Washington, DC region. Currently, our in-person author events are cancelled due to coronavirus. So this spring/summer, we're going virtual to keep everyone safe and make sure little bookworms don't miss out on literary adventures! Enjoy our latest virtual story times and check out our past events below - we hope to read with you in person again soon!


Virtual Story Time Part I: ABCs of Annapolis

Virtual Story Time Part II: ¡Números, Baby!

Virtual Story Time Part III: ABCs of Washington, DC
---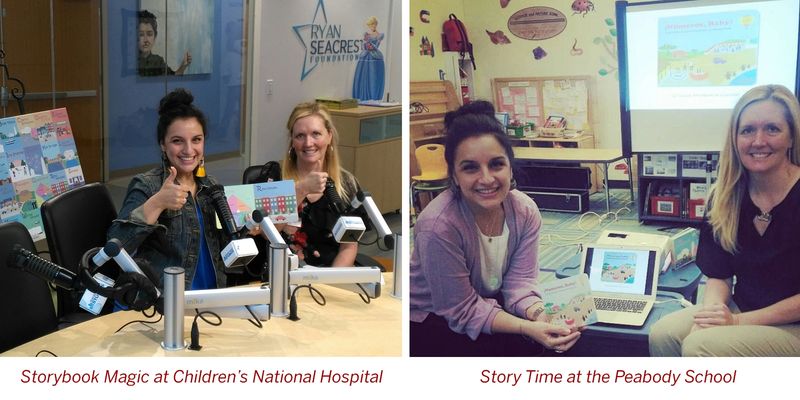 Past Events 
June 2, 2019 - First Sunday Arts Festival, Annapolis
May 17, 2019 - Story time at Inés María Mendoza School, San Juan, Puerto Rico
May 4, 2019 - Story time and book drive at East City Bookshop
April 30, 2019 - Story time at the Anne Arundel County Library (Monarch Academy)
April 20, 2019 - Story time and Book Drive at Loyalty Bookstore
March 23, 2019 - Story time at Loyalty Bookstore
February 23, 2019 - Multi-author story time & book signing at Walls of Books
December 5, 2018 - Story time at the Peabody Early Childhood Center
November 27, 2018 - Story time at the Eastport-Annapolis Neck Community Library 
October 20, 2018 - Love our Local Authors (LOLA) Festival, Hooray for Books
October 7, 2018 - First Sunday Arts Festival, Annapolis
August 25, 2018 - Story time at East City Bookshop
July 24, 2018 - Story time at The Green Chateau, Los Angeles 
June 22, 2018 - Story time at the Chesapeake Children's Museum, Annapolis
June 5, 2018 - Storybook Magic at Children's National Hospital
May 19, 2018 - Gaithersburg Book Festival 
May 15, 2018 - Story time at Busboys and Poets, Takoma Park 
May 6, 2018 - First Sunday Arts Festival 
December 21, 2017 - Book signing at Pen & Prose Boutique, Reagan National Airport
December 19, 2017 - Story time at East City Bookshop
December 9, 2017 - Story time at SkillZone
December 2, 2017 - Story time at Walls of Books
November 25, 2017 - Story time at Walls of Books
August 26, 2017 - Story time at Walls of Books
July 9, 2017 - Story time at East City Bookshop
May 20, 2017 - Exhibiting author at the Gaithersburg Book Festival
December 13, 2016 - Story time at East City Bookshop