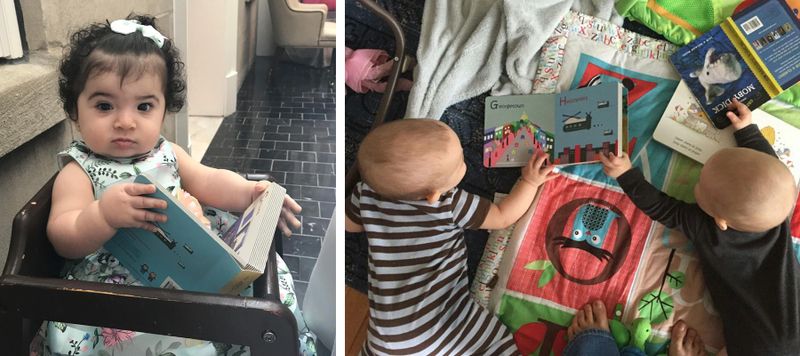 At Baby Ventures, we're passionate about fostering a love of reading in children from an early age. And nothing makes us happier than hearing stories of little ones (and grown-ups too) who love our books! 
Testimonials

"Just so you know, we read this book [ABCs of Annapolis] at least once a day! Currently, this will be the third time in a row!"
- Emily K, 2019
"Travel around the Spanish-speaking world in ¡Números, Baby! by Lisa Hall and Golzar Kheiltash. Every young child loves a counting book, and you couldn't find a more perfect counting book for young Spanish-speaking children than this. For very young children, the pictures and text work as an ideal book for counting in Spanish and English. For slightly older children, the pictures and text work as an introduction to Spanish culture around the world...Delightful!"
- Deb N, 2019
"…When I discovered The ABCs of Washington, DC from Baby Ventures, I was so excited! It's a wonderful book and has become the special gift (accompanied by something hand knit, of course!) for every baby in our lives, introducing them to books and a special city, all in one! Now that ¡Números, Baby! is out, it's my "go to" gift for a first birthday. There can be no better gift than a good book!"
- Anne W, 2019
"I bought the ABCs of Washington, DC for my friend's son. She told me it's his favorite book and she doesn't go anywhere without it!"
- Meriana A, 2018
"We had ordered your DC ABCs book and got it yesterday! It's been an instant hit with our daughter. It's the first DC kids book that I've liked. I almost regret ordering it because she's made me read it like 4,837,272 times today. J Thanks for the book!"
- Veronica G, 2018
---
Featured On
The Tiny Activist - Introducing Baby Ventures
Beltway Bambinos - Q & A with the founders of Baby Ventures and Creators of the ABCsof Washington, DC 
Allison Fitzsimmons - Baby Ventures, Layer by Layer
Do DC with Kids - The ABCs of Washington, DC with Baby Ventures